These are my favourite games that I played in 2012 and are in no particular order. I refuse to pick one over the other, because they are all great for their own reasons.
Mark of the Ninja
Imagine, you are a ninja. Hidden in the shadows, unseen in the darkness. You drop down, whisper quiet. You sneak up behind a body guard and in one smooth motion, you draw your sword, kill the guard and catch him, so no one else knows. You throw the dead guard down the balcony, at the feet of another. He is terrified; his best friend of 10 years has been murdered and not a single sound was made. He freaks out, knowing that there is someone else in the room, ready to kill him. Is he in the shadows? Is he working with these other guards? Is he dressed up as a guard? He can't take any chances, it's everyone for themselves. He hears a noise behind him; he unleashes a full clip into another guard who was simply concerned. Another guard stumbles into the room; he sees two dead guards and one freaked out solider. He raises his gun; he's too late. The freaked out guard shoots him dead too and makes a run for it. All this time, he never hears you drop down from the rafters. He nevers hear you unsheathe your blade. But he feels the blade in chest. He drops to the floor, gurgling blood. You jump back in the rafters, whisper quiet, hidden in the shadows.
Mark of the Ninja is one of the best stealth games ever made. Why? Because it breaks down every element of stealth games and gets to the root cause of what that is. It then uses very clear visual clues as to what actions results in. If an enemy can see you, you are coloured and illuminated. If not, you're black and shadowy. Your footsteps make very clear circles and if a guard is in that circle, he'll hear you. It makes every aspect of your movement and attacks clear, so that when if you do screw up, it's your fault, plain and simple. As much as I love other stealth games, there is always an ambiguity as to whether or not you will be detected. And for me, sure, that's part of the fun, but to someone who isn't as patient/doesn't like stealth as much, this game helps ease you into the gameplay of hiding and staying out of sight.
The other thing I really love about MotN is that you FEEL like a ninja. Ninjas are all about being sneaky, deadly killing machines. They hide and only make their move when they need to, and everyone is none the wiser. You only see a ninja if they want to be seen, and by then, it's too late. And this is what MotN does so well: you feel like a ninja. You feel powerful hiding in the shadows, you feel like you've accomplished something when you sneak past undetected, or take out a guard and no one knows. It's a fantastic game, and I'm sure it'll be like $7.50 or something stupid during the steam sales, you definitely need to check it out.
Dishonored
Dishonored is a game that oozes choice. Let's say you need to go to assassinate your target, and in this area, there's two guards blocking your way. Do you:
- Run in and throw a grenade, killing them?
- Silently kill one and shoot the other?
- Put a mine on a rat, possess the rat and charge the rat right into the guards, killing them instantly?
- Do you knock one out and drag his body away, and sneak past the other guy?
- Do you just possess a rat and run past them all?
- Do you kill a guy with a gun, and when the other guard turns to shoot you, stop time, possess him, move his body into the path of his own bullet, unpossess him, get to a good viewing point and resume time and watch him kill himself with his own bullet?
- Do you make a noise so that one of them investigates, sneak past him, possess his friend, jump off a ledge and then unpossess him before impact so he dies but you're fine?
There are so very very many ways to play Dishonored, it's fantastic. You can go full slaughter fest and use a great combination of magic and weapons to murder every single thing. You can be a ghost and sneak past everyone, and not kill a single soul. Or you can try and be sneaky, get caught and then kill EVERYONE. It's your call. You are free to choose how you wish to play, and it's a refreshing change to the linear game formula. The other thing that is exceptional is the world of Dunwall. The atmosphere and world building is fantastic, with little notes and journals that contribute to the dystopian setting they've created. There hasn't been a world that has had this much character since Arkham Asylum. The art style isn't necessarily for everyone, but I adore it. It's a refreshing change of pace from the gritty/brown/ultrarealistic/lens flare crazy look that a lot of other games have (to be clear; subtle lens flare okay, lots of lens flare bad, bokeh is amazing).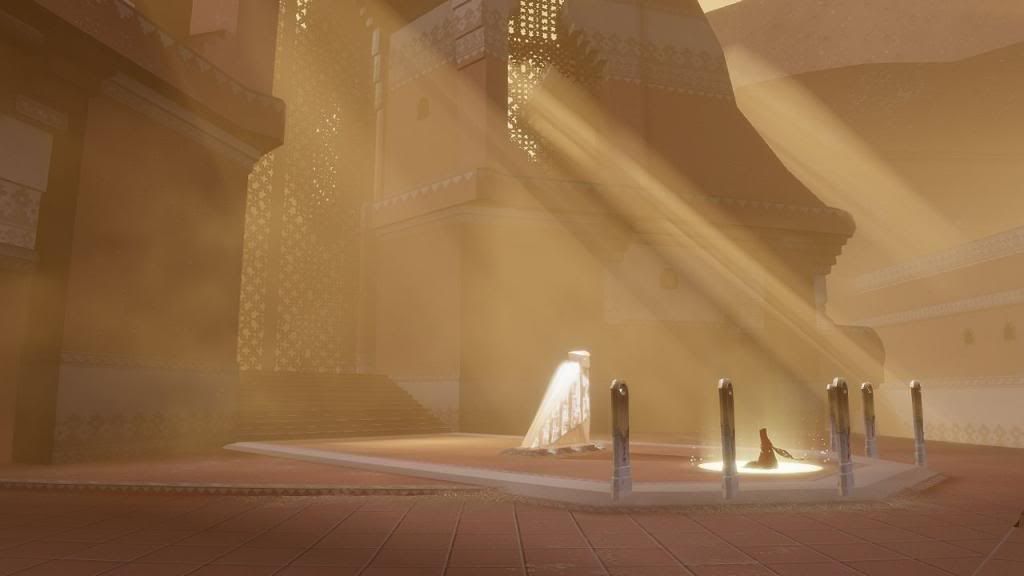 Journey
It seems to me, that each year a game comes along where every aspect of it is astonishingly well crafted and fits so well with its other parts. Uncharted 2. Red Dead Redemption. Bastion. The narrative, the art, the gameplay, the technology, the music, they all come together to form this amazing experience that blows your mind. It seems that during development, these areas weren't in just separate pods, they weren't just outsourced, but it felt like they were made for each other throughout the development process. Can you imagine Bastion without its art, its story, its music? Can you play RDR without that beautiful song as you rode into Mexico? Journey fits into this category of game for me. Everything about this game has been refined to evoke that sense of wonder, of discover, of, well, your journey. I'm not going to write much about what the gameplay of Journey is, because it's yours. It's your journey that you take, by yourself or with a stranger and it is an amazing experience.
Thirty Flights of Loving
Whenever you start a new game, you're dragged through tutorials. They hold your hands, make sure you know how to look up and down, how to jump, how to crouch. The story doesn't matter here, they're making sure you know the basics, then they can slowly drip feed the story to you as you go on. This process can take anywhere from 15-60 minutes. And I'm sure in these types of games, there are also just missions where you do them for the sake of doing them, or maybe you just want that next cutscene or upgrade. It's just fat, it's a waste of time, it's extra padding that's not needed.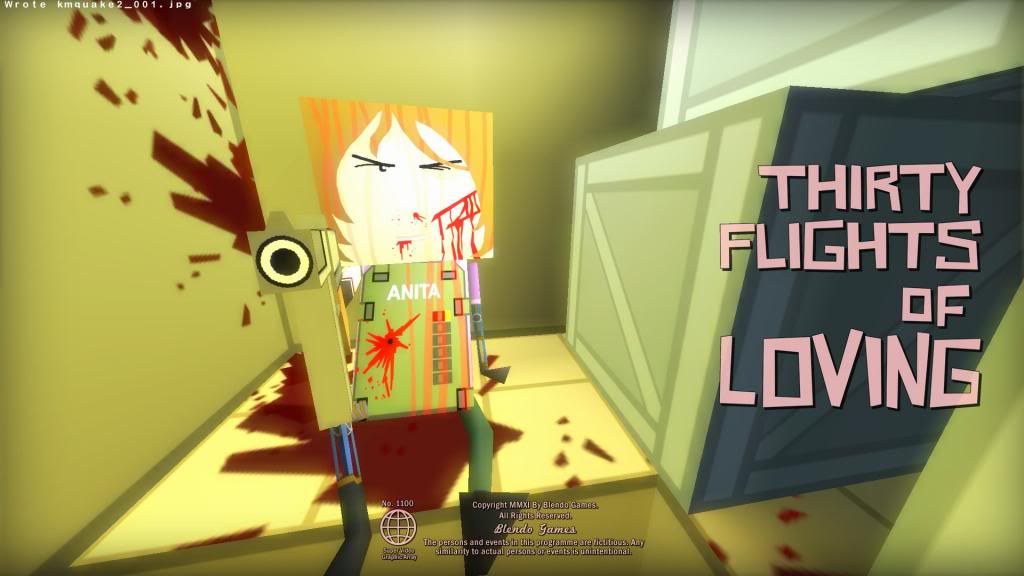 Thirty Flights of Loving will literally take you 10-15 minutes, but this is a steak. There's no fat and you don't waste any part of the meal; every minute of this game is used incredibly well, and I don't want to spoil anything, but let's say I grew more emotionally connected to these characters in the 15 minutes I spent playing it than I do in most 6/10/15 hours games. It's rather remarkable how much story is told, through gameplay, through the world and through implied meaning.
It's normally $5 on steam, but $3.75 now because of steam sales. I highly encourage you to play it, for a refreshing change of pace and something completely new and different. If you're going to ummm and ahhhh over the price to minute ratio, I can write a giant rant about how annoying that is, or you can try out Gravity Bone, which is free and in a similar vein to TFoL. It'll also run on basically any computer, as the graphics aren't that sophisticated or anything. So you have no excuses.
Rayman Jungle Run
Yes, it's an iOS/Android game, but I've sunk many hours into trying to get all the lums and crystals and is definitely one of my favourite games I've played this year. Using Rayman Origins' rather stunning art style and cheerful soundtrack, this game only requires one (later two) button presses: run and punch. It introduces you to a new gameplay mechanic, then you have several levels that grow increasingly harder to reinforce that mechanic. It's so simple, but so fun and addictive that it deserves to be checked out.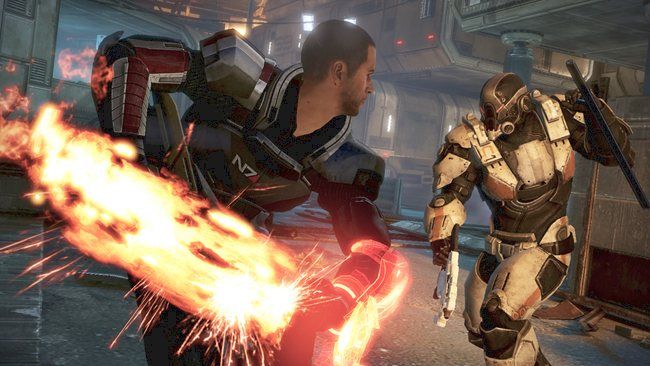 Mass Effect 3
So let's get some of the dirty stuff out of the way. The ending was crap. Not horrible, not amazing. You absolutely need to get the From Ashes DLC, and the Leviathon DLC drops a ton of lore that explains so much about the Reapers and the why the war is happening. But at the end of the day, I don't remember all this stuff when I think of Mass Effect 3. I remember Thane. I remember his sickness and his quest for redemption in ME2, and how Bioware wraps things up with him. My journey through the Mass Effect games was defined not by the story, but by my relationships with the characters in the trilogy, and for all the hate Bioware got for the ending, I felt happy with the way I left things with my crew and friends. And everything about this is summed up when you chill with Garrus in the Citadel. A worthy conclusion to a fantastic trilogy of games.
Walking Dead
Sadness. Regret. Fear. Despair. The Walking Dead makes you feel emotions like these, sometimes all at once. Which is a testament to Telltale Games for managing to evoke such emotion out of a heartless old grinch such as myself. The Walking Dead is an Adventure/Heavy Rain-esque game where the emphasis is placed more on you, your choices and how you interact with the characters in a world. There are no binary good/bad choices, just varying degrees of shit choices in shit situations. Amazingly though, Telltale make you feel those decisions, the impact of it and you take ownership and responsibility as to what the choices you made were. There was one persons death that made me just put down the controller, put my head in my hands and just feel so awful I contemplated not playing the rest of the games. Very few games have elicited such an emotional response from me.